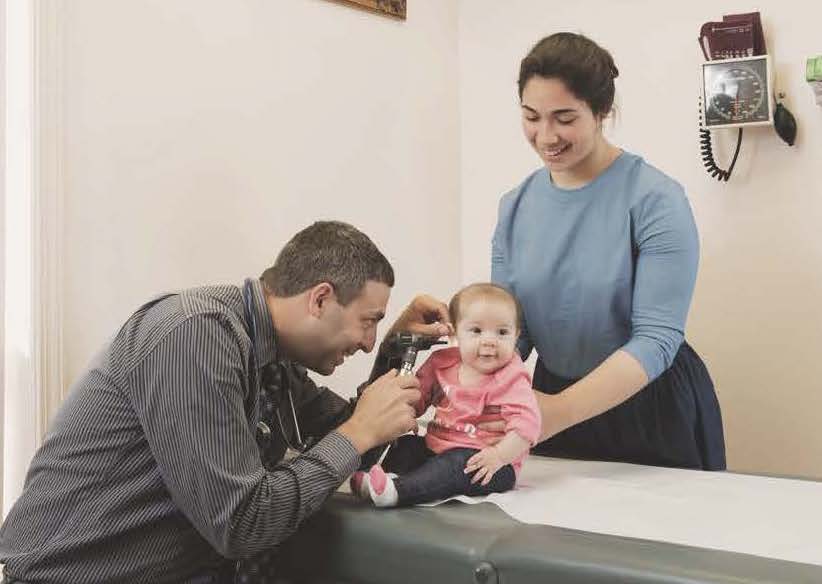 Well child visits might very well be considered the cornerstone of preventive pediatric care. These comprehensive exams are a great way to monitor your child's growth and development and discuss milestones and concerns with your provider.
During your child's first year, a well visit is recommended at or before one week, and then every two months afterwards.
At these visits, your provider will:
See how baby is growing by measuring height, weight, and head circumference,
Check eyes, ears, mouth, and tongue for normal development,
Feel for healthy lymph nodes around his or her neck,
Listen to heart and lungs,
Examine the tummy for normal development,
Rotate hips to ensure mobility and proper development,
Examine baby's skin, and
Vaccinate baby against serious childhood illnesses.
These routine visits focus on preventive care and allow your provider to identify potential issues early. The earlier a condition is identified, the sooner treatment can begin, which will improve your child's long-term health.
Well child checks also allow providers and parents to discuss a child's development. The following milestone will likely be brought up:
@ Two Months: Physicians will check for head control and see how well the baby lifts its head when lying on his or her tummy. We will examine how well they focus, as well as how well the baby can manage prolonged tummy time.
@ Four Months: The baby should be able to roll from his or her tummy to back, and be able to make circles when lying on his or her stomach. We will also make sure baby can unclench his or her fist and reach for toys.
@ Six Months: At this point, doctors will check to see if baby can sit for a few seconds, and perhaps even roll both ways.
@ Nine Months: Your baby will start to babble, crawl, and pull to stand.
Every child develops at his or her own pace. Well checks are an opportunity to identify and monitor potential delays. When needed, early intervention can help get your child get back on track.
Well child visits continue past the first year. At age two, three and four, your provider will perform a comprehensive exam and monitor your child's growth and development. At age four your provider will begin to check vision and hearing. At this age, well child checks are recommended annually and are an opportunity for you and your provider to monitor your child's growth and development and even discuss school performance and social wellbeing.
Yearly visits continue to be recommended for children throughout their school-age years. At these appointments, pediatricians monitor:
Weight gain and make recommendations for diet and exercise, if needed,
Height to make sure a child is progressing along his or her correct growth curve,
Vision, making referrals to an optometrist, when necessary,
Hearing, with referrals to an ENT if indicated, and
Blood pressure, which can be elevated in childhood and might need regular monitoring.
Around age 10, your provider will check your child's spine for scoliosis. At these visits, you'll discuss social development and school performance. Your child should be encouraged to participate in these discussions. If any concerns are noted, we can work together to develop a plan to address early.
At RefuahHealth we believe that the foundation of lifelong health is laid early and that "an ounce of prevention is worth a pound of cure." Regular check-ups give us the opportunity to get to know your child and the rest of your family. We care for our patients the same way we care for our own family, and we would love to be able to build a trusting relationship that can be maintained throughout childhood and into adulthood. It is a privilege for us as physicians to share this journey with you, and we hope you allow us to do just that!
Dr. Rose Varon has been practicing pediatric primary care for 35 years and have been a vital part of the RefuahHealth Family for 25 years. She is an expert in childhood wellness and is currently seeing patients at RefuahHealth Main.