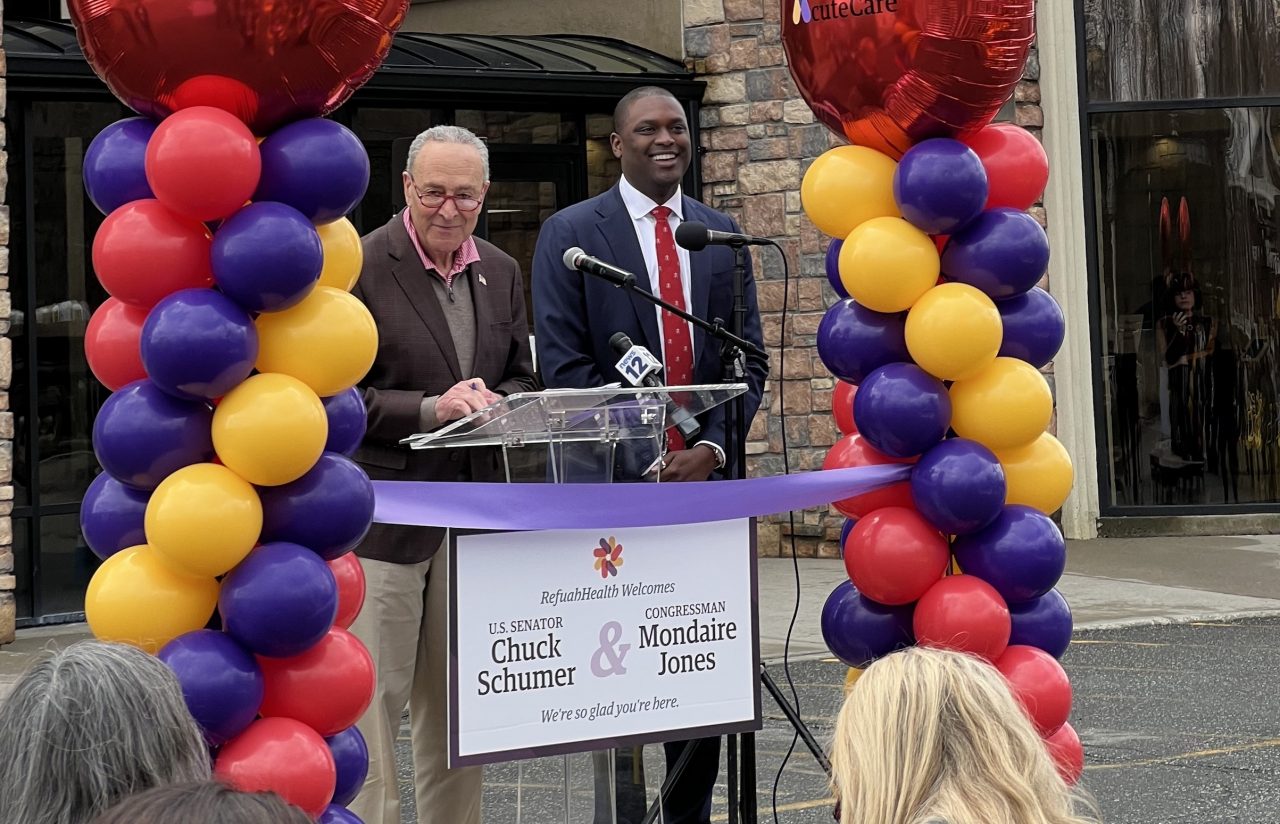 NEW SQUARE, New York— Today Refuah Health Center (RefuahHealth) welcomed U.S. Senator Chuck Schumer and Congressman Mondaire Jones to celebrate RefuahHealth's $2,000,000 federal funding award under the omnibus spending bill.
The $2,000,000 in federal funding will serve as the first step in a comprehensive plan to enhance women's care in the local area. Refuah will use the award to construct the Center of Excellence for Women's Health. This state-of-the-art facility will be dedicated to the provision of accessible, high-quality, affordable healthcare for underserved women facing health disparities. The Center of Excellence, to be located near Refuah's Spring Valley campus, will provide comprehensive OB/GYN services, specifically infertility treatment, to underserved women and their families in a local, caring, and comprehensive environment.
"Local women and families are more likely to struggle with infertility than women across New York State and throughout the nation. RefuahHealth's goal is to ensure and protect health equity by making the Center of Excellence for Women's Health a place where our community not only gets top notch care but also compassionate care that makes them feel safe and welcome regardless of cultural background or socio-economic status. To have our elected officials join in our mission sends a positive and promising message to New York women and families," said Chanie Sternberg, President/CEO at RefuahHealth.
RefuahHealth, a federally-qualified community health center headquartered in Rockland County, NY, will use the award to increase access to comprehensive women's healthcare with a focus on infertility services. Over 15% of Rockland County women will experience infertility issues in their lifetime, yet there are a limited number of infertility specialists in the area that serve women regardless of ability to pay. With federal funding, RefuahHealth will bridge this gap to provide infertility care to women and families of all backgrounds and socio-economic status.
RefuahHealth is one of the largest providers of outpatient women's health services in Rockland County. In 2021, the Center's team of OB/GYNs and midwives delivered 1,769 babies.
"Our families deserve healthy mothers. RefuahHealth continues to champion women's health and looks forward to filling the local community's void in infertility care. We are extraordinarily thankful to Senator Schumer, Senator Gillibrand, and Congressman Jones for their support of and work on behalf of Rockland County's women," said Alexandra Khorover, Chief Strategy Officer at RefuahHealth.
According to the CDC, in NYS 625,000 women have difficulty getting pregnant or carrying a pregnancy to live birth. Approximately 11.2% of NY women struggle with infertility, compared to 9.2% of women nationwide. In 2020, to address disparities in access to fertility services, NYS required insurance providers to cover IVF for people with a medical diagnosis of infertility. Currently, there are approximately 130 fertility medical specialists in NYS – a number inadequate to meet the need. Today's funding award will help Rockland County families access these much needed services.
In the future, the Center will also house comprehensive women's health services, including mental health services, imaging, and GYN out-patient surgery. Bringing all of these services together under one roof, in a patient-centered location, will enhance Refuah's existing capabilities as an FQHC and allow the Center to reach the underserved women of Rockland County.
Per the US Department of Health and Human Services, RefuahHealth is a 501(c)3 Federally Qualified Community Health Center and has served the lower Hudson Valley for 30 years. As an FQHC, it is accessible to all patients regardless of ability to pay.
For additional details on RefuahHealth, please visit www.RefuahHealth.org. Join our story and follow @RefuahHealth on Facebook and Instagram today.